Students in Mrs. Fatura's Applications of STEM class participated in the Pringle Ringle challenge on Thursday, 9/5/19. The challenge was to take one can of Pringles chips and assemble the chips to make one connected ring. Three of the seven groups found success, it was a fun and yummy challenge!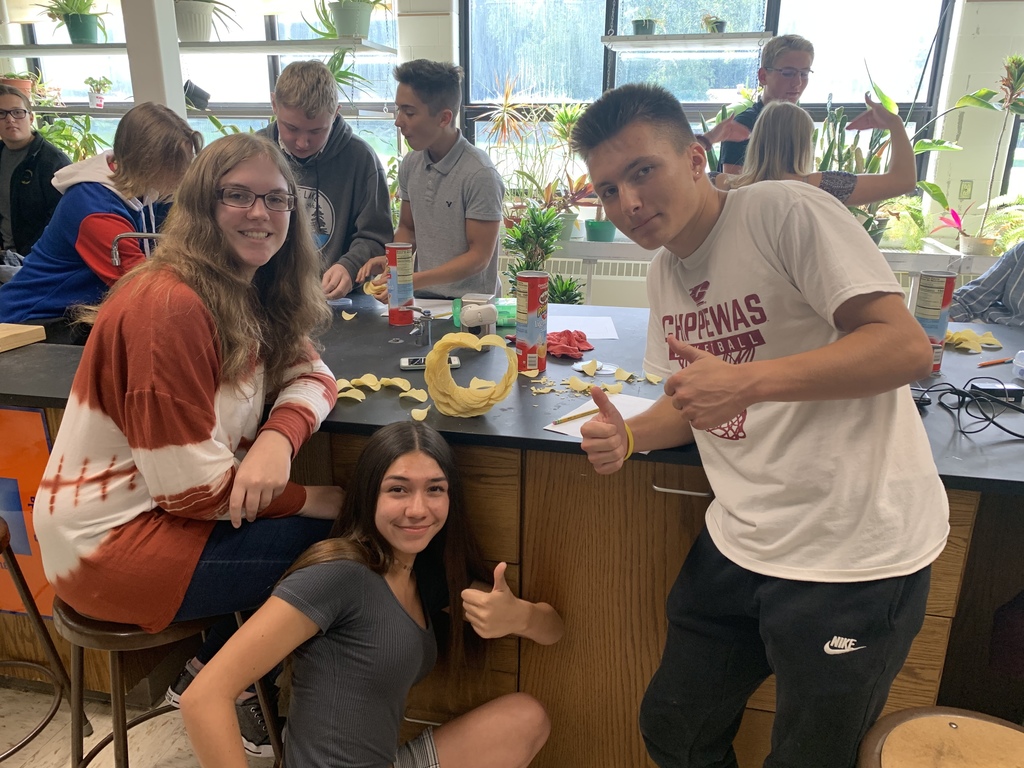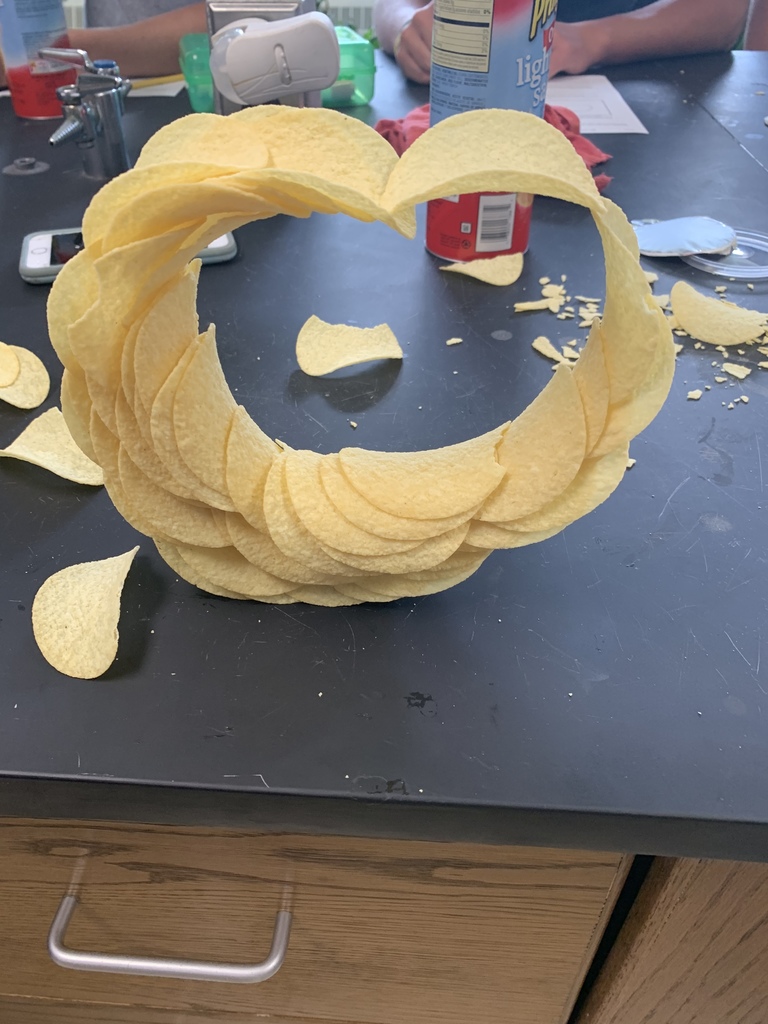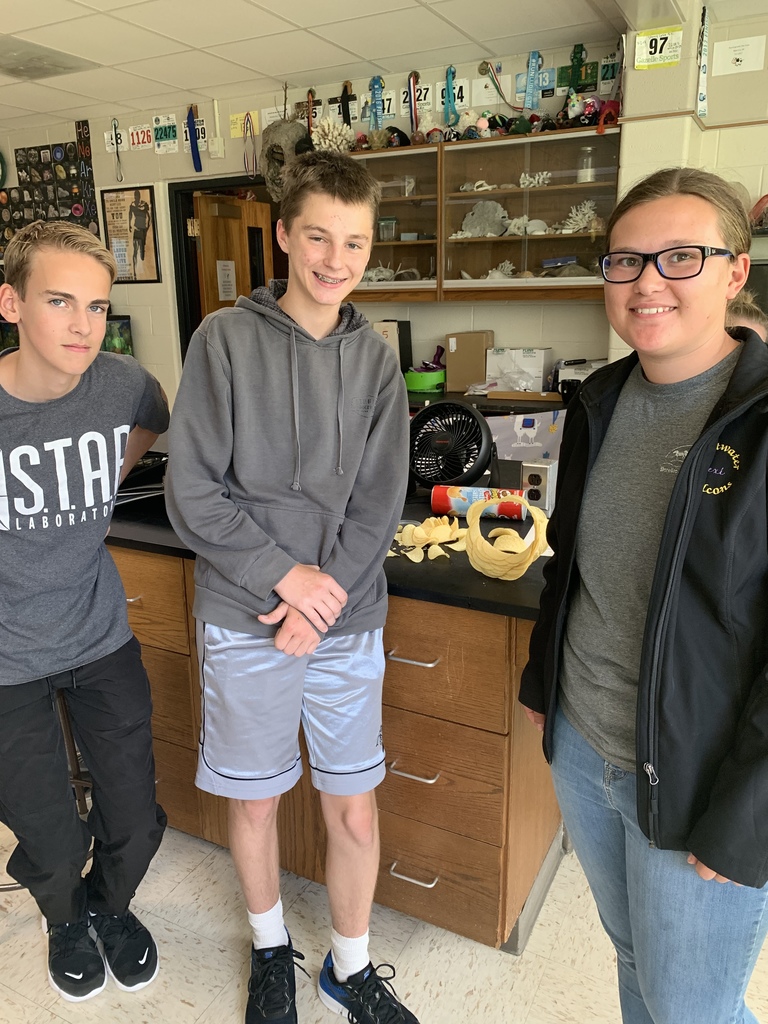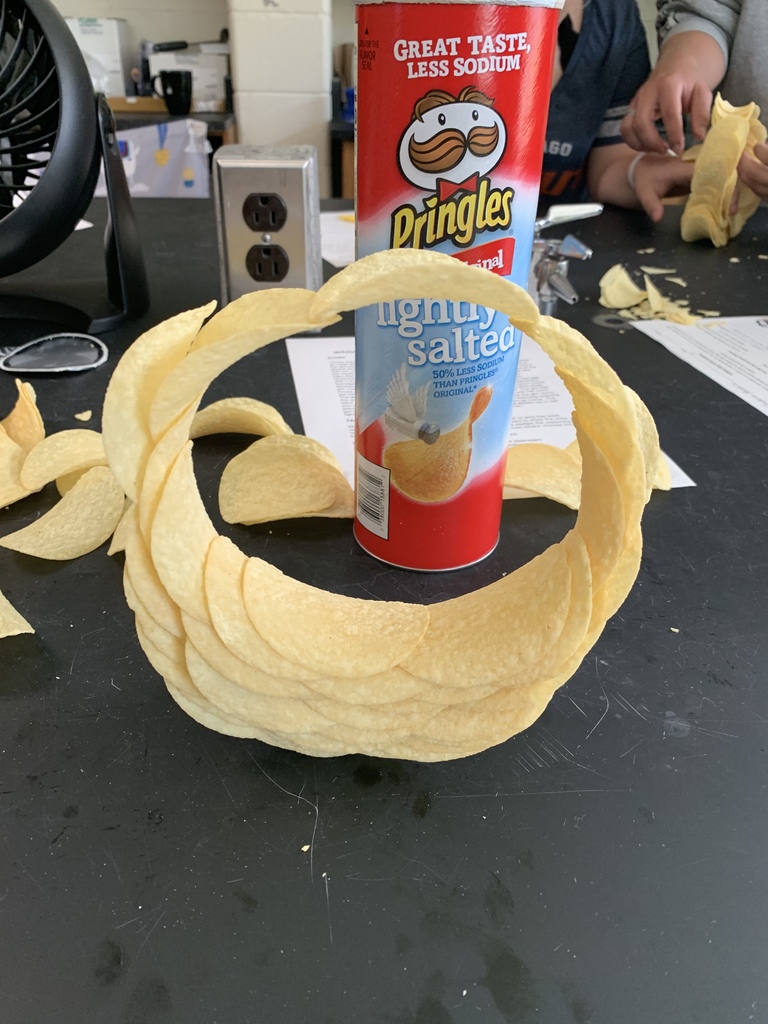 Open House Meeting Schedule: Reminder that our open house is from 4:30 - 6:30pm this evening, Wednesday, 8/28/19 for all incoming KG-12th Grade students and parents/guardians. Assistant Principal Wagner will be meeting with the following groups of students/parents in Room #303: 7th Grade - 5pm; 9th Grade - 5:30pm; and 12th Grade - 5:45pm. Dr. Karaptian will also be hosting a Title I parent meeting at 5:30pm in the school library!

Initiate countdown: Tuesday, September 3, 2019!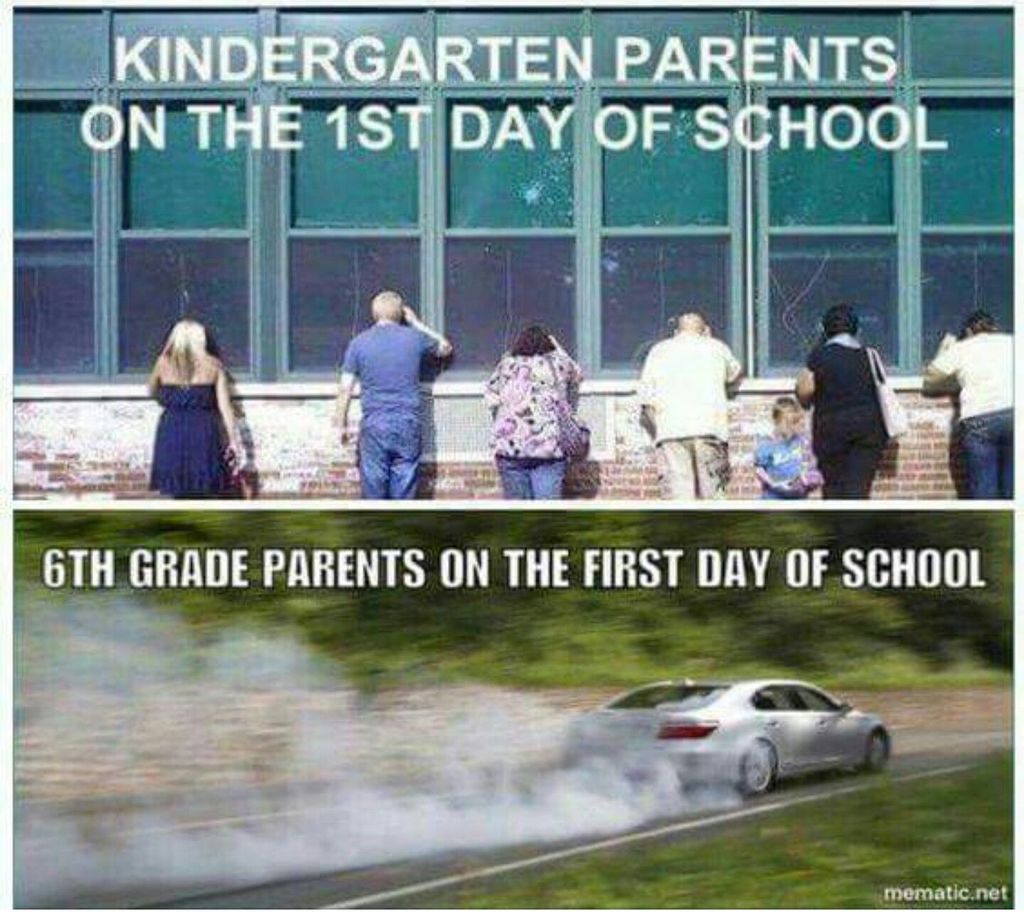 School Picture Day is scheduled for Thursday, September 5, 2019.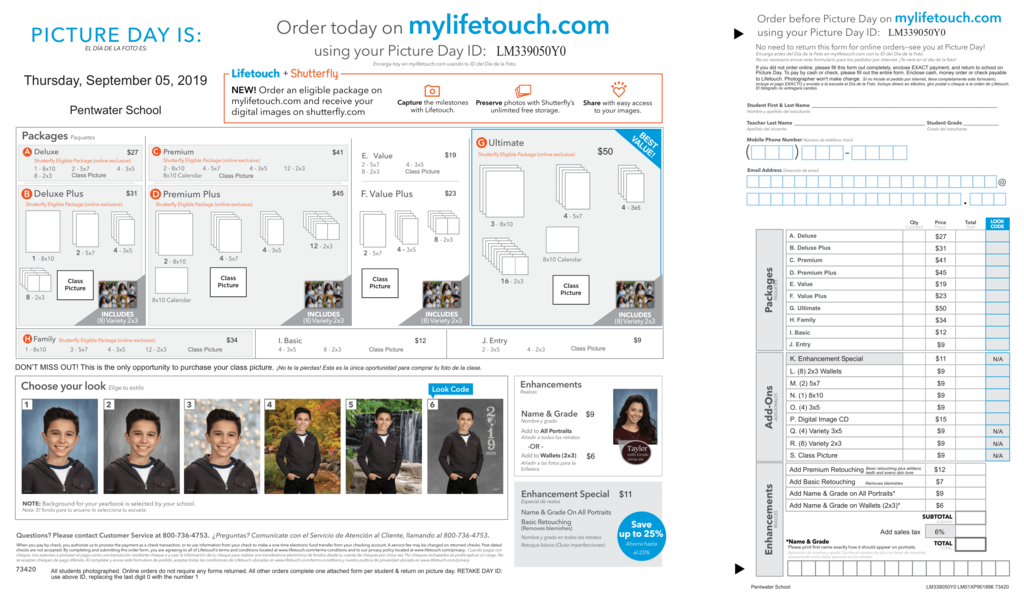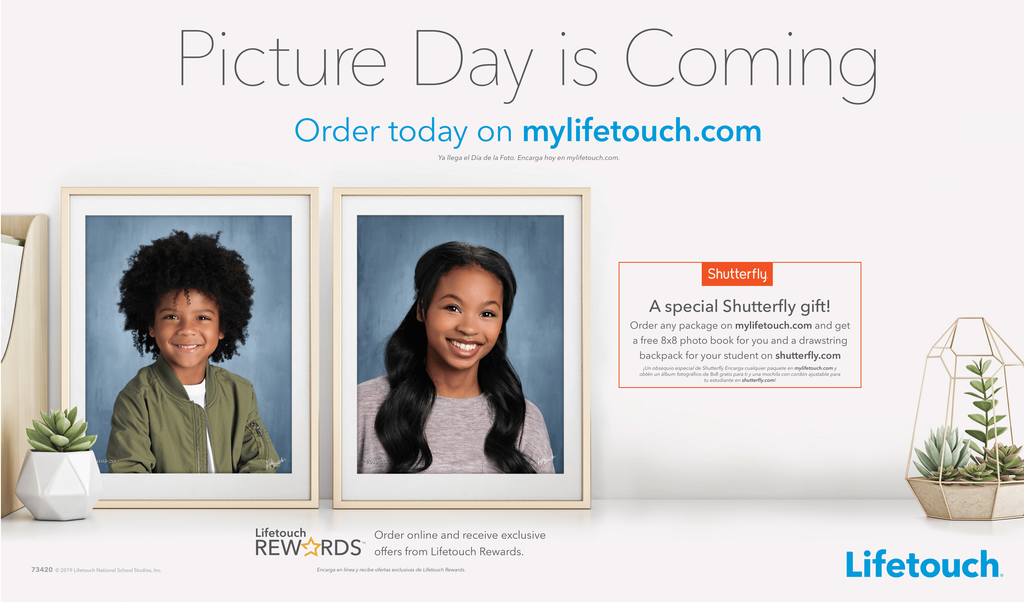 PTCO News!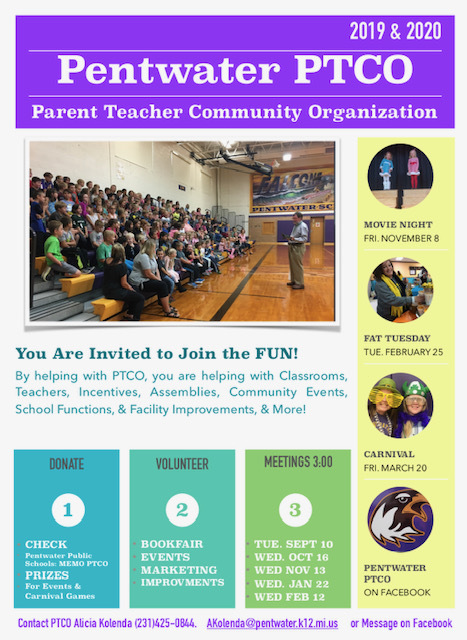 August 2019 Newsletter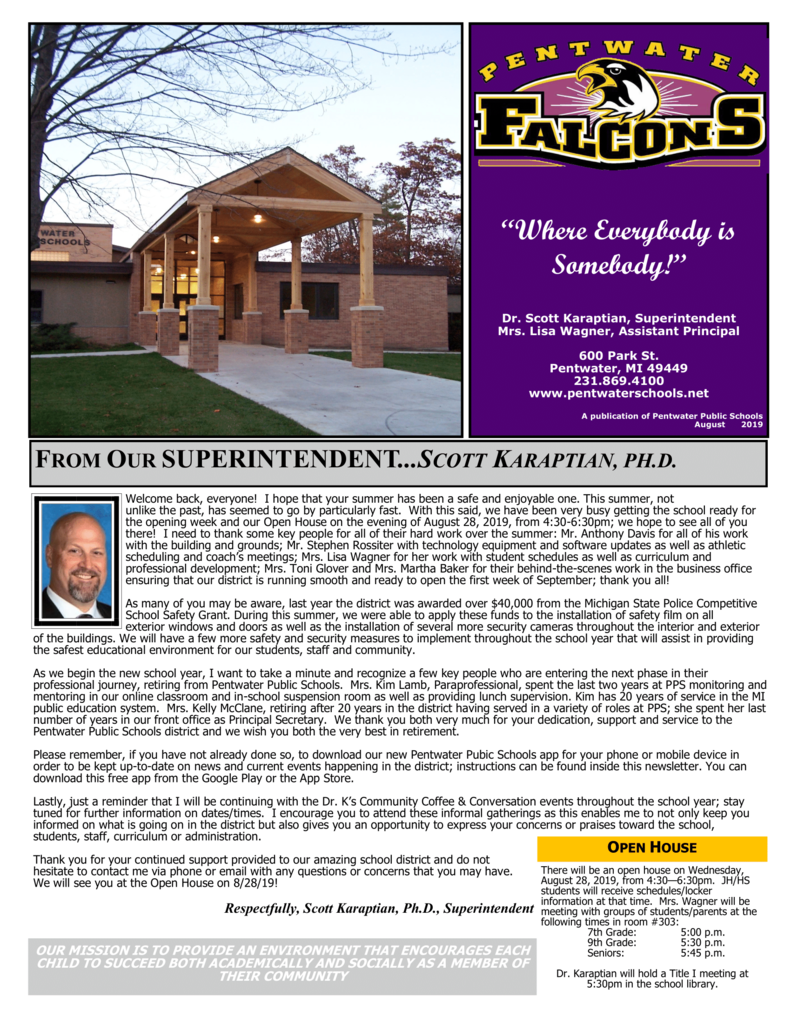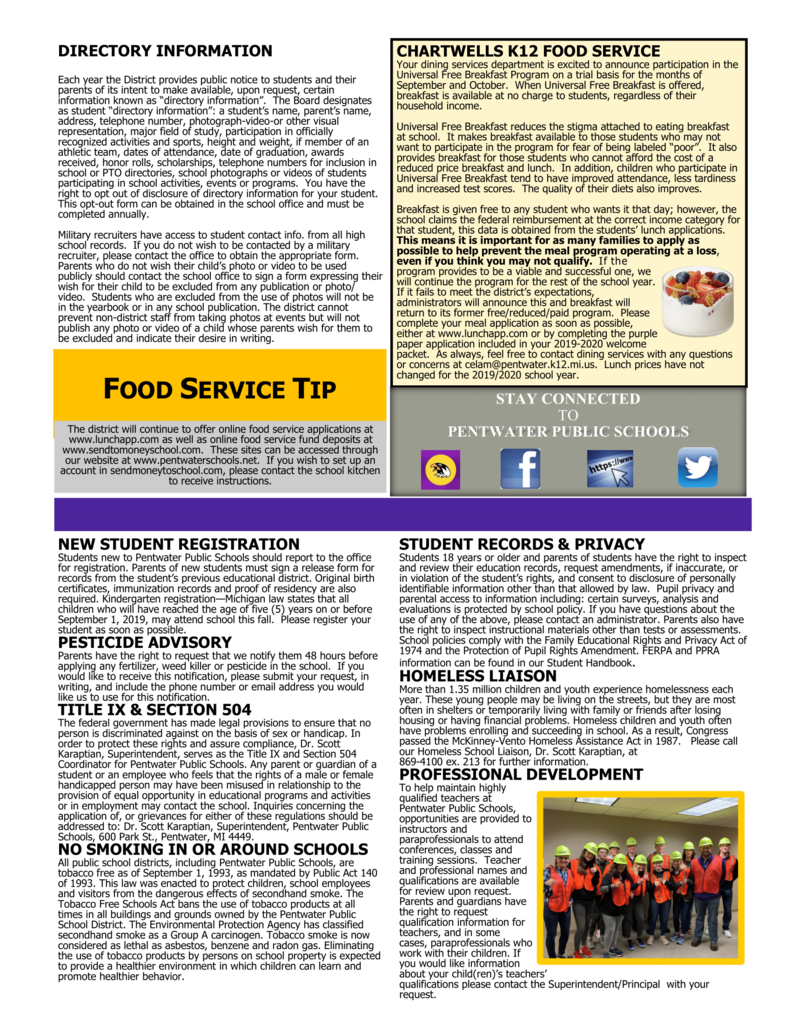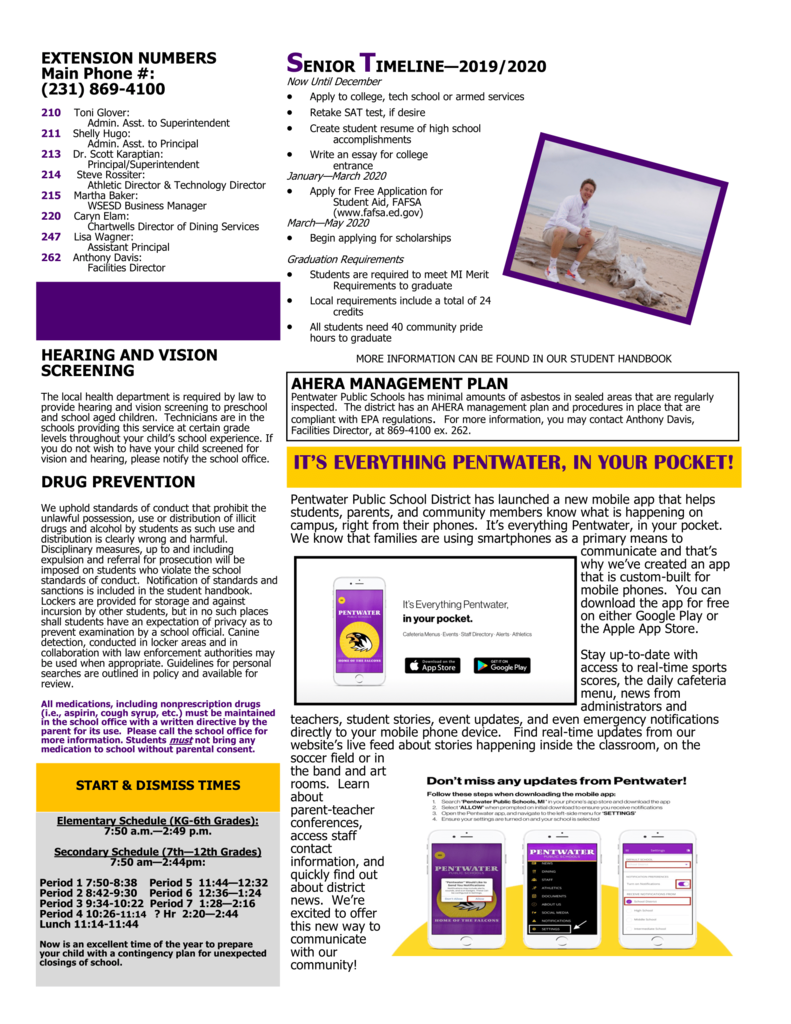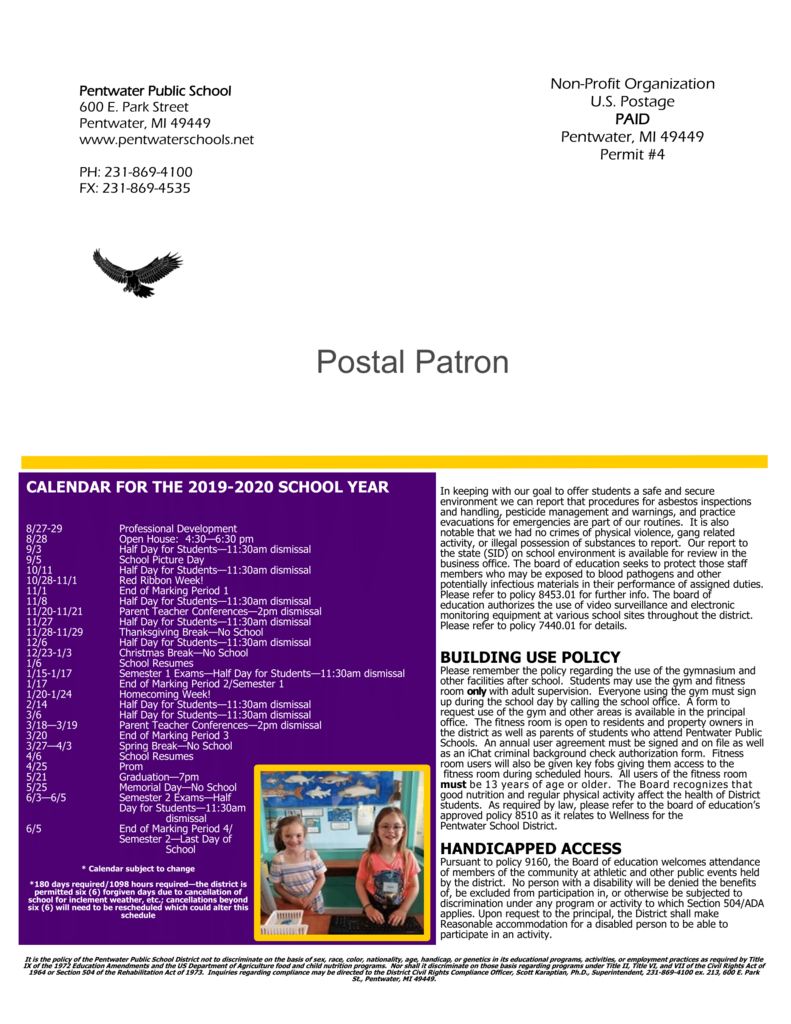 2019/2020 Food Services Update: Your dining services department is excited to announce participation in the Universal Free Breakfast (UFB) program on a trial basis for the months of September and October! When Universal Free Breakfast is offered, breakfast is available at no charge to students, regardless of their household income. Breakfast is given to any student who wants it that day; however, the school claims the federal reimbursement at the correct income category for that student, this data is obtained from a student's free/reduced lunch application. This means that it is important for as many families to apply as possible to prevent the meal program operating at a loss, even if you think you may not qualify for free/reduced meals, PLEASE APPLY! UFB reduces the stigma attached to eating breakfast at school. It makes breakfast available to those students who may not want to participate in the program for fear of being labeled, "poor". It also provides breakfast for those students who cannot afford the cost of a reduced price breakfast. In addition, children who participate in UFB tend to have improved attendance, less tardiness and increased test scores. Please complete an online application or a paper application which can be found in our welcome packet that will be mailed home!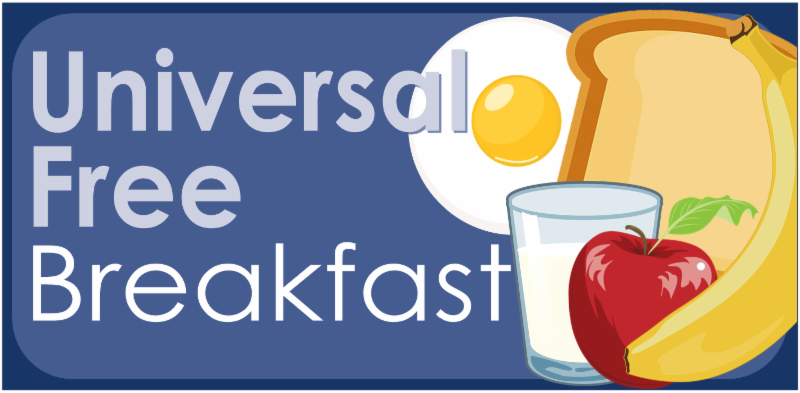 Attention Pentwater Friends and Family: Pentwater Public Schools is looking to fill a custodial position. Hours are 3pm-10:30pm, Monday thru Friday, with a wage of $12 per hour. If you know of anyone who is interested please contact the school at 231-869-4100 ext 210. Thanks!

As we approach the 2019/2020 school year, please remember to take a moment to download the free Pentwater Schools app onto your mobile device! We are excited to integrate this new technology in our communications with students, parents, staff and community.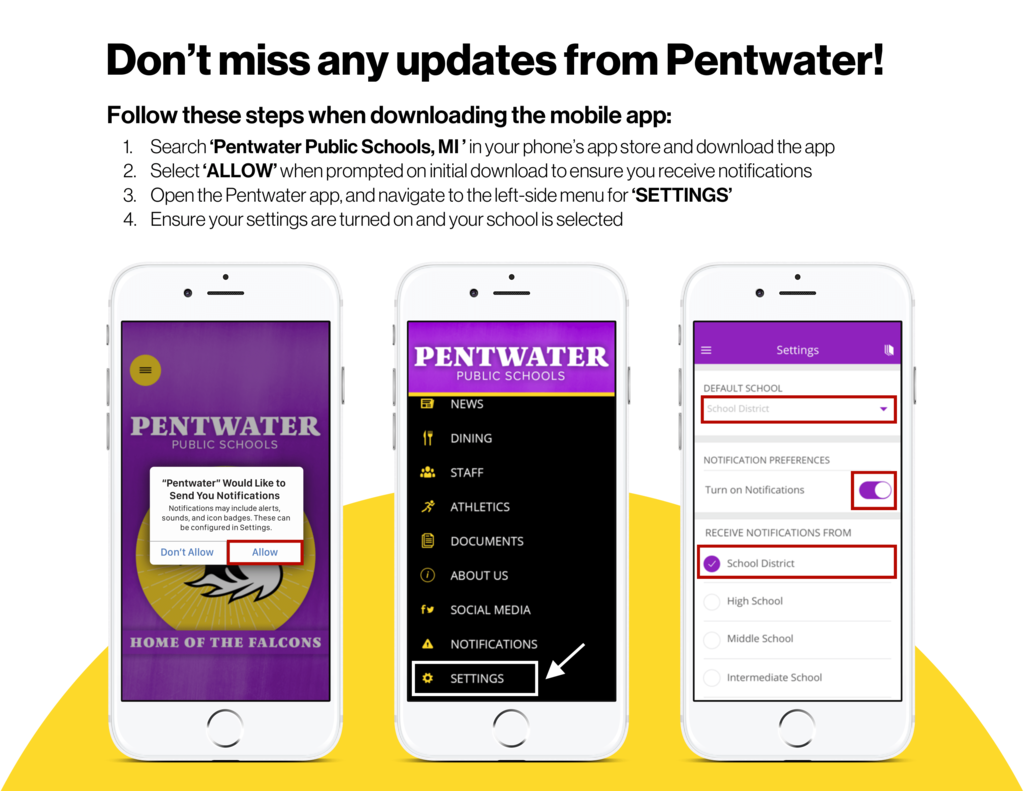 Our 2019/2020 schools of choice first deadline is quickly approaching. The district will be reviewing applications on August 1, 2019, for enrollment. If you are out of district and wish to enroll your student, a schools of choice application must be on file to be included in any potential lottery. This does not apply to those students who are already enrolled in the district. If you have any questions, please contact the school at 231-869-4100 ex. 210.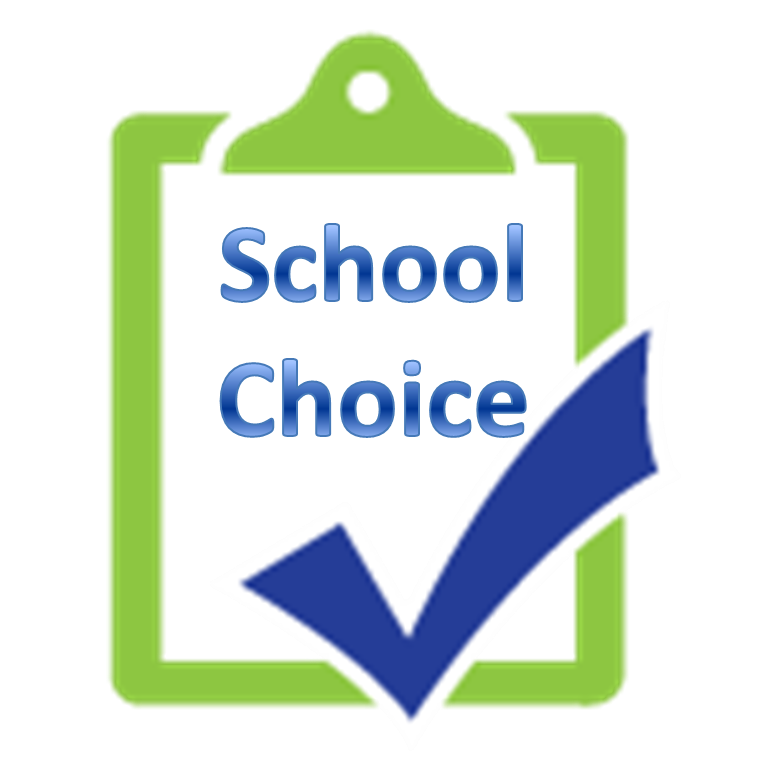 Good Morning Parents and Students! Fall sports will be starting very soon, with that said, we will be having a parent/player/coach meeting on August 5th in our library. Volleyball will start the meeting at 6pm (JH, JV, V), Cross-Country will go next at 6:30pm (JH & V), and Soccer will end the night at 7pm(V). You are only required to come to the meeting of the sport that you are participating in. If you have any questions, please contact your coach or myself. Thank you very much! -Stephen Rossiter- Athletic Director.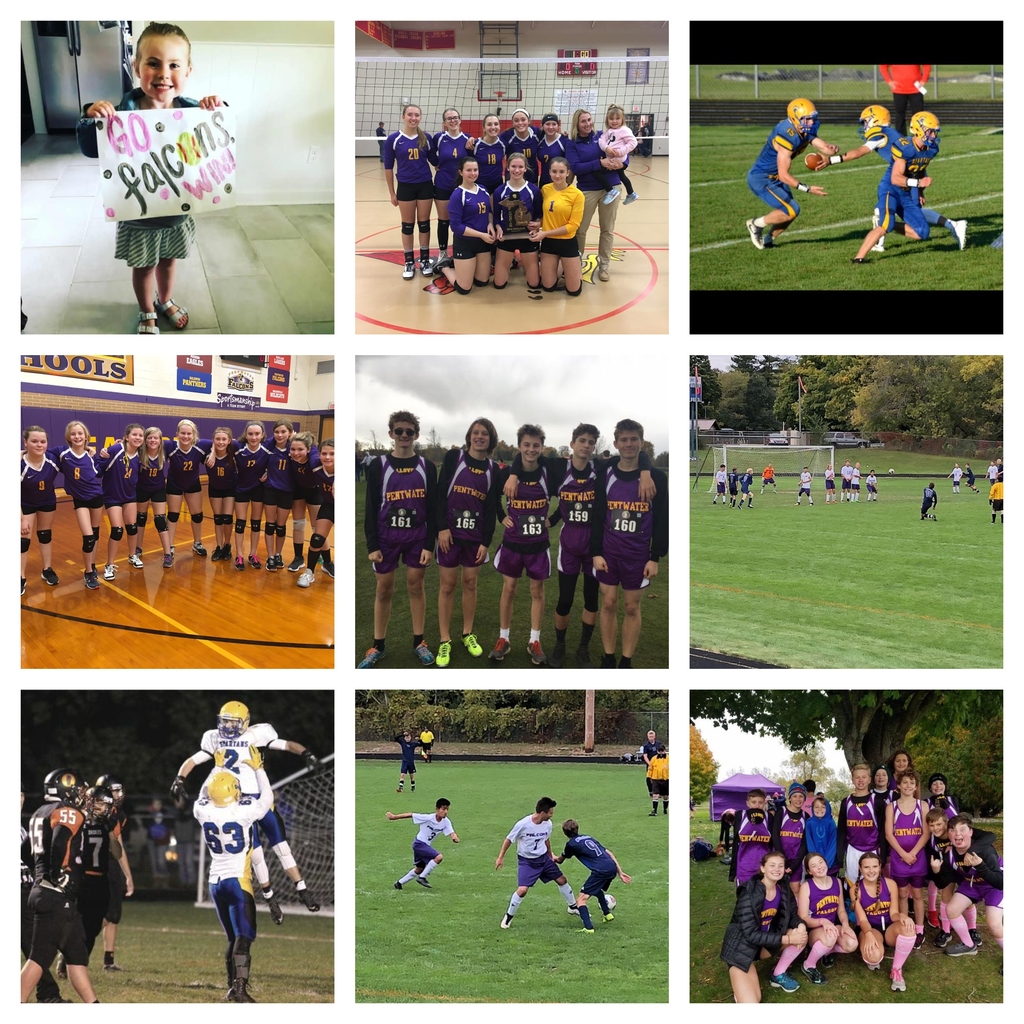 Do you have an interest in making a difference in children's lives? Pentwater Public Schools is preparing for our 2019/2020 school year and we are always in need of substitute staff and we'd love to have you apply!

Just a reminder, if anyone interested in playing football, the season starts at MCC on August 12th. Please contact me for more information. Thanks, Steve Rossiter.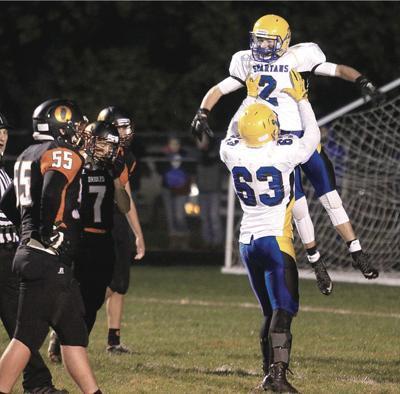 The 2019-2020 school open house will be held on Wednesday, 8/28/19, from 4:30pm-6:30pm! Great opportunity to visit classrooms, meet with staff, get schedules as well as locker assignments!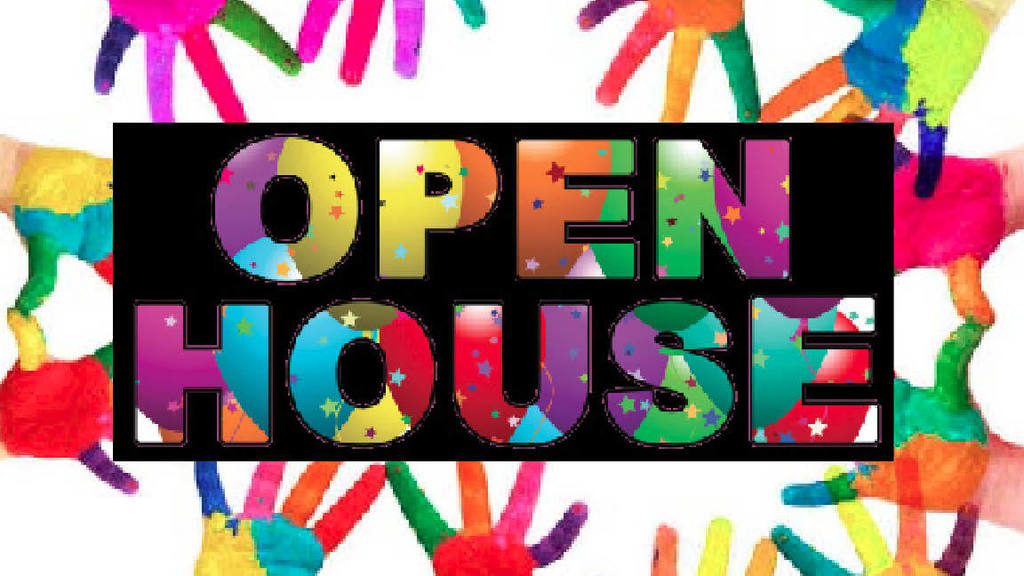 For your information: Pentwater Schools will be hosting ASHER (Active Shooter/Hostile Event Response) training with area law enforcement on Friday, 7/19/19. They are using our facilities for their training exercises. Please note that there is no emergency at the school but you may see police and other emergency individuals during the day in the school building. Thank you!

Good Afternoon Pentwater Friends and Families, on Friday July 19th, Pentwater Public Schools will be hosting an Active Shooter Hostile Event Response (ASHER) training event and is seeking volunteers to help with role playing and help with this event. The training will go from 12:00- 4:00. Below is some more information on the training: Rescue Task Force (RTF) is a modern response to a "Active Shooter Hostile Event Response" . A Rescue Task Force team would form once the threat has been located and isolated from a particular area of the building being victimized. A Rescue Task Force team's mission is to minimize casualties and serious injuries by rescuing victims involved as soon as practically possible. RTF Role Players -Victim of school violent crime -Simulate an injured person by verbally telling rescue personnel what their symptoms are. -Simulate a panicked student within a school setting. -Simulate a school staff member responsible for students. -Simulate a deceased person -Comfortable with "simulated treatment" by EMS/Fire personnel. -Comfortable lying on hard floors, being carried/moved by EMS/Fire personnel in unconventional ways. -Comfortable being immersed into a simulated stressful environment. Thank you in advance for you willingness to help in the very important training exercise! Scott Karaptian, Ph.D. Superintendent/Principal Pentwater Public Schools

2019-2020 School District Calendar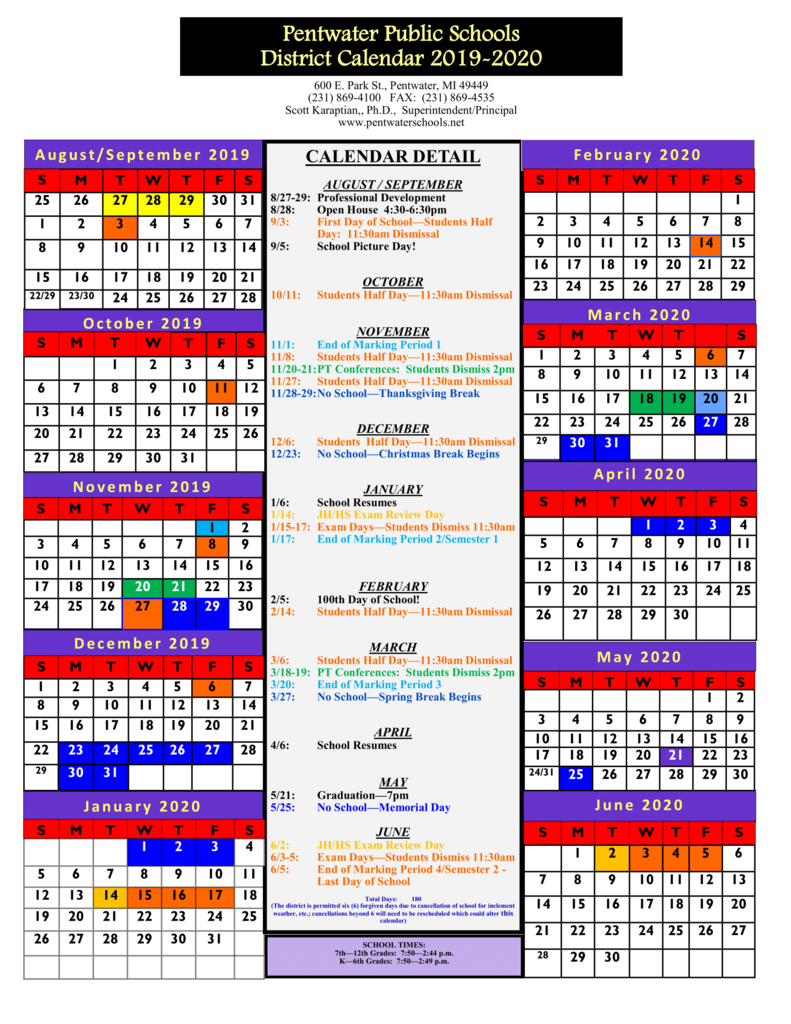 Summer Job Opportunity: Pentwater Pizza and Grinders is currently hiring summer workers. Any students who may be interested should contact them at 869-6664

It has been an awesome year, have a wonderful day on this first day of summer!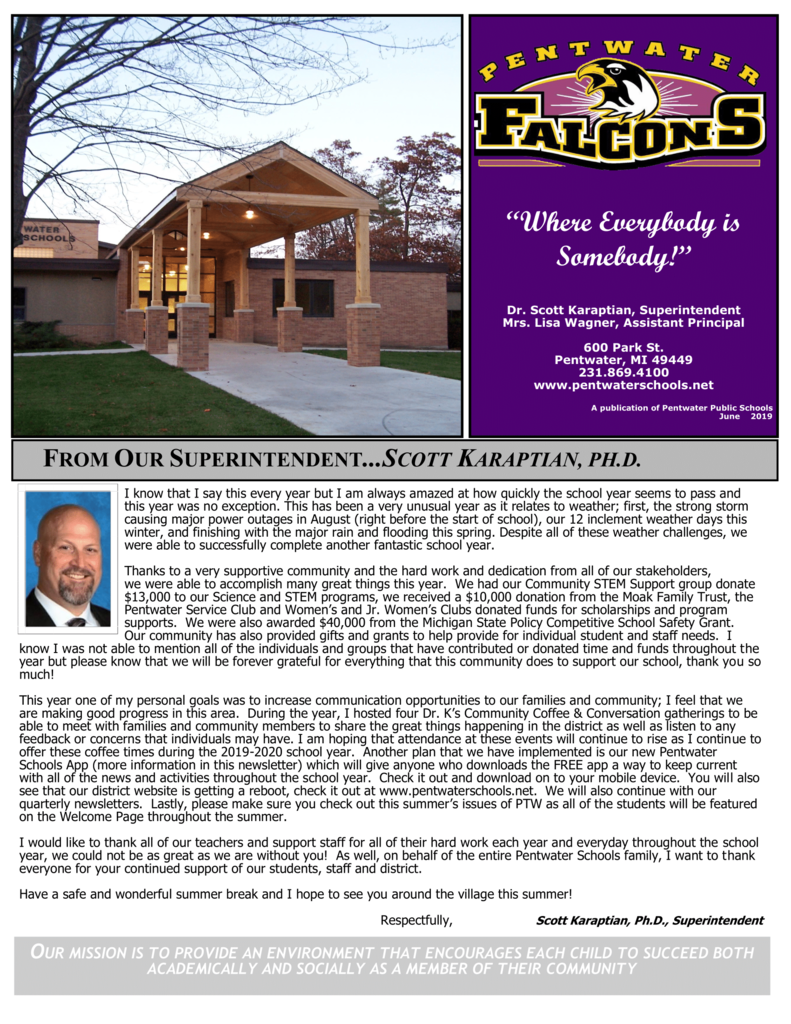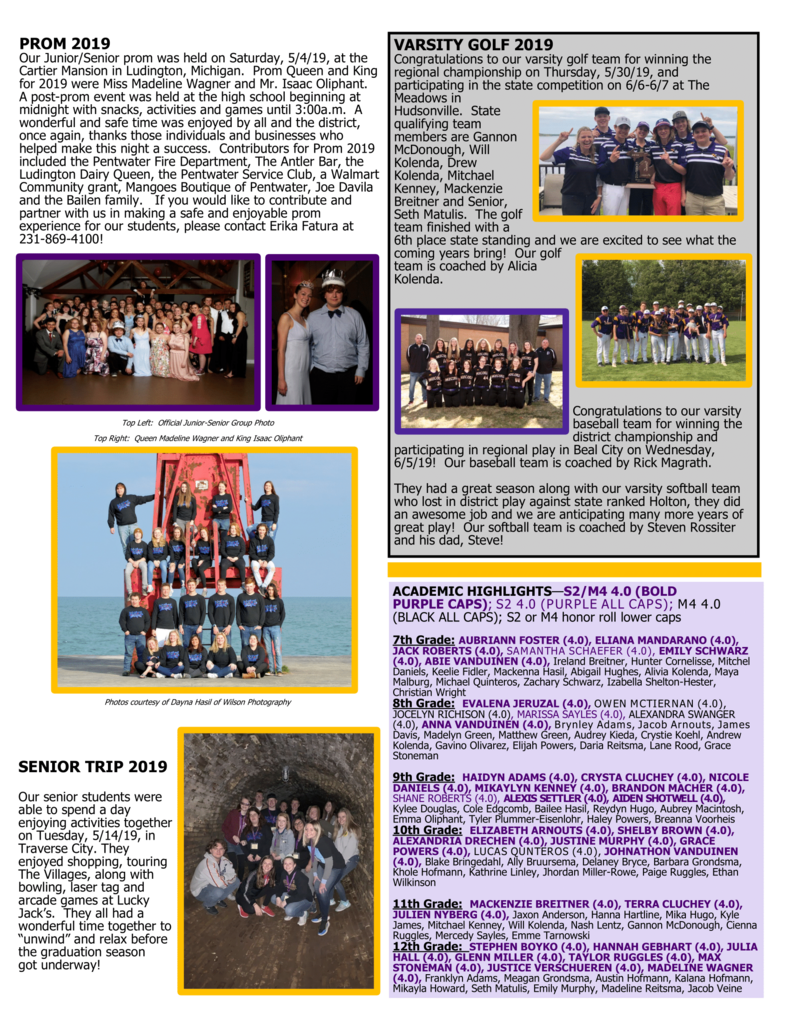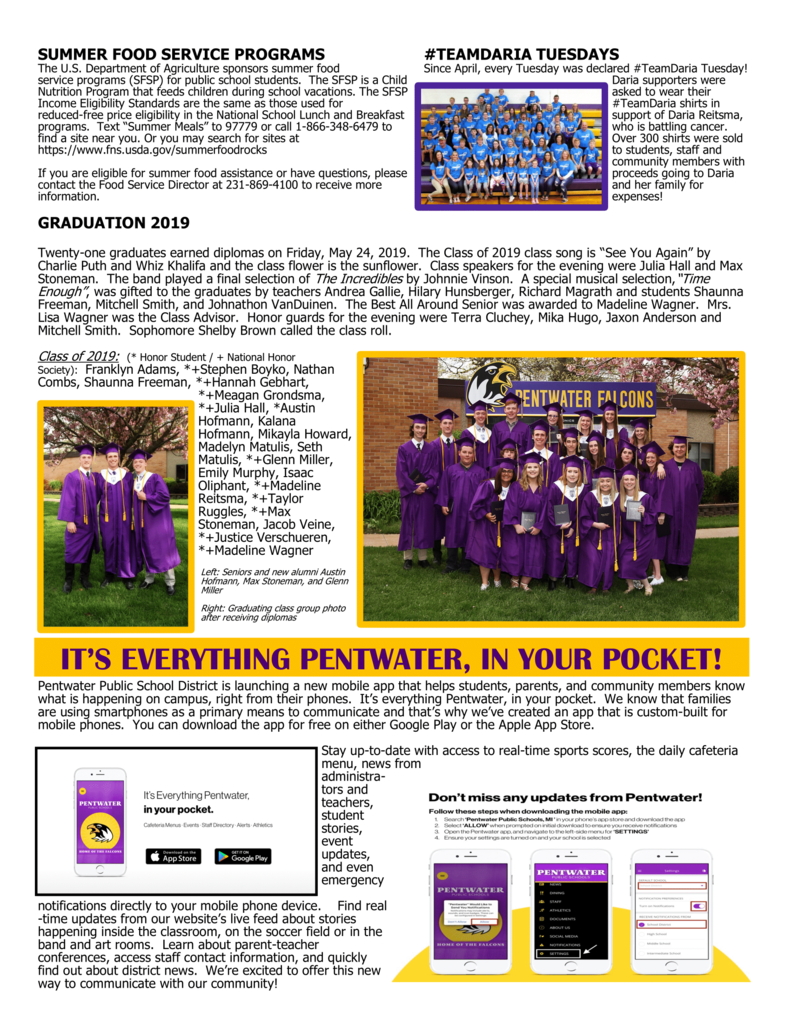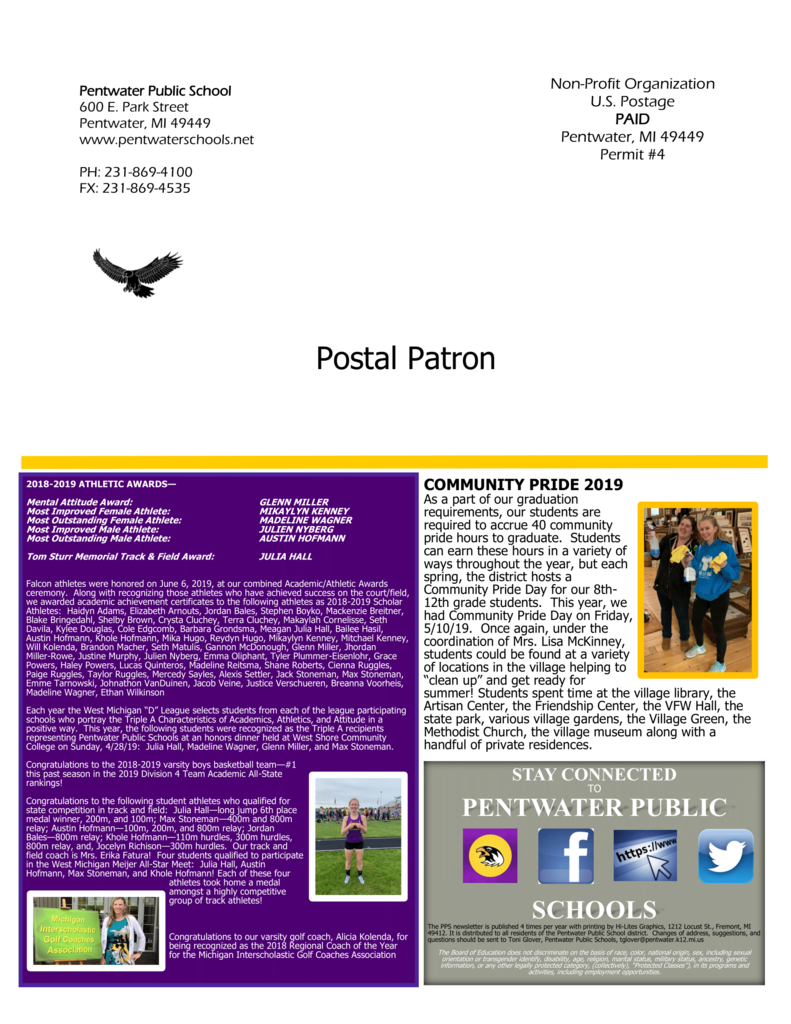 Harness the Wind - Learn to Sail! For more information, go to
www.pentwaterjrsailing.org
or you can contact Program Coordinators, Sue and Bill Bainton at 231-923-8888